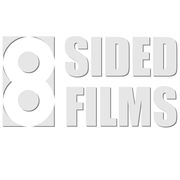 8 Sided Films
8 Sided Films is a repertory film company, focused on creating showbusiness sustainablility by demanding excellence in our craft and by providing leadership in our community.
SUMMARY
For any production to realize its full creative and financial potential, every creative element must reflect the overall goals of the project. Every great collaborative work was produced by a team of talented people, united by a common intent.

8 Sided Films and the 8 Sided Forum represent our ensemble's collective stewardship over the stories born from intent too multifaceted, specific, or unique for studio production, and our commitment to honoring that intent as the foundation for a more personal relationship with our audience.

On Slated, the principals of 8 Sided Films intend to seek and establish relationships well-suited to benefit from and contribute to the maintenance of our creative standards and the growth of our audience, as well as to leverage our practices and resources on behalf of independent Hollywood and the sustainability thereof.